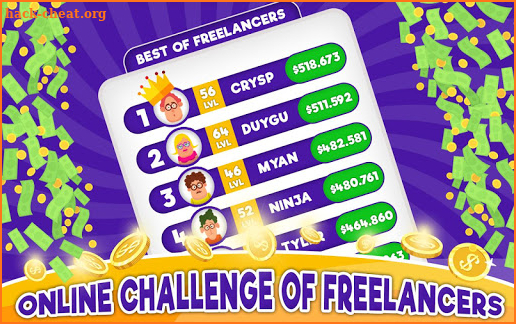 Hack freelancer
РАБОТА НА УДАЛЕННОМ ДОСТУПЕ НА АНГЛИЙСКОМ
Terlihat sepertinya di portfolio. Jadi saya coba menggunakan sqlmap dan found something. Sebuah username dan password yang di hash. Tetapi kita butuh mencrack password tersebut terlebih dahulu. Dengan melihat alternatif yang lain saya mencoba hal-hal lain.
Dengan menggunakan sqlmap kita bisa menggunakan function —file-read untuk membaca file tersebut. Selamat siang, terima kasih atas penjabarannya. I knew I could so great work if I just could figure out how to leverage myself and be seen in the crowded marketplace.
Competing with outsourced work is one of the biggest challenges facing Americans in the growing international workforce. In every field, from manufacturing to technology, someone with a comparable or superior skill set is willing to do the same work as you for drastically lower cost. The minute I logged on to Elance, I was met with the crushing realization that there were literally over , other freelance designers most of whom were more skilled that myself , all looking for the same jobs at the same time.
How was I going to get clients when I was competing with all the freelance designers in the world not on the value and quality I provided , but on price? I think not. They are widely perceived as a luxury brand and come with ridiculous customer service to justify their price point. Testing allows you to determine if a business will work while greatly reducing the risk of failure.
DO IT. I set up a dummy account in order to create a fake posting looking for web developers. The purpose behind this was to find out exactly what types of proposals other developers were submitting. Side note: Elance generally frowns upon dummy ads. None of the copy in the ad is random. Everything has a strategic purpose, meant to find something out about my competition. A few tactical things to notice here:. All things being equal, this means that each applicant had a 1.
Of course, my goal was to figure out how to shift these odds dramatically, but more on that later. Take a look at the breakdown by region:. So just based on initial impressions, before reading any of the actual proposals that were submitted, here are my observations:. With over 1. The next closest is Australia, with barely over , jobs awarded. English speaking Americans do mostly all the hiring and every other country does almost all the labor.
The problem most American freelancers run into on Elance is that since their rates are naturally higher due cost of living, they miss out on jobs by getting ruthlessly lowballed by foreigners using the volume approach. I was attempting to find out how could I remove this objection and make price a non-issue.
Remember my first objective: figure out exactly what the successful competition was doing. When I opened my Elance inbox, the first feelings I had were those of nausea. But I did notice certain elements of proposals that made them stand out.
No matter how many bids the job gets, their proposal will stay at the top. Only 3 contractors per job may be sponsored. I always looked at these for two reasons: First, I knew they were already making a small investment in me by paying to show their bid. Second, with almost proposals to sift through, it was impossible to forget them.
This got harder as I went along, so it helped if they were on of the first 20ish applicants. Specific reference to the project I posted, not a generic copy-paste job. This also gave me a good idea of how proficient they were at English. Price point: this is important, but for different reasons than you may expect. But more often than not, it would actually draw me to their pitch, then their profile to see if they met the other criteria listed above. Once I applied all of these criteria, my pool of applicants was cut down significantly.
So how was I supposed to choose between all those seemingly equally-qualified candidates and decide who I was going to award the job to? Personal interaction. They had to sell me. I found that when it came down to it, if everyone had similar qualifications, the only determining factor I could use to make a decision was personality.
I had to actually LIKE the person. I have feelings too. Once I realized that the secret to me hiring someone else was whether I liked them or not, I immediately got to work creating a strategy for my own campaign designed with one purpose only: to make myself completely irresistible to prospective clients as quickly as possible. Before I spent time and energy pitching randomly to every client that posted a job, I took time to narrow down the best candidates.
I needed to find postings that showed evidence of reliable behavior on behalf of the client. Here are some examples of ideal candidates that I would pitch to, along with notes:. Example 1: Example 2: Example 3: Example After I selected who I was going to pitch to, I did detailed research so that I could approach them correctly. Go to the profile of the potential client and look for information that will help you personalize the proposal as much as possible.
After you determine what they think about past freelancers, look for other personal details. Use this information to create a completely customized proposal. Dead wrong. You know what I noticed after reviewing all the pitches I received during my test?
But I made their discomfort my advantage. And even if they did, there are MORE than enough jobs to sustain everyone. People love stories. You must create a story that they feel emotionally connected to. As you progress, you will find the right groove and your own personal narrative, this basic framework is a great starting place and eventually you can improvise as you become more comfortable. Go through several reviews. Sometimes you just need reliable pros who really undertand your needs to step in and get amazing work done quickly.
We want to make working together again a no-brainer! You must create the value first. I like to use rich, colorful product descriptions to really make people feel the pull. As you close, keep the lines of communication open and leave the ball in their court by saying things like:. This type of soft close usually gets at least some feedback and you can feel them out to see if they are good to work with.
Notice the customization and approach I took to understanding the specific clients needs and the personal approach I took by creating a story arc. See how freaking simple that was? These types of simple pitches got me jobs. Here are some samples of how I word the actual proposals in the Elance platform. As with the videos, the written parts of my proposals also got shorter and shorter as I progressed.
What can I say. I got bored doing these things and had to entertain myself. Sometimes you can just keep it simple and get straight to the point, like in this example:. They will most likely have one or two of a few common questions. Insert some details from the personalized story you told in your intro video, then refer them back to the portfolio website and reassure them that your work is awesome. And we battle with getting our legs cut out from under us every single day by good firms in India and Asia who do the work for a fraction of a price.
But we see design a little differently. To us, creating a design is like two people working on a painting at the same time. After all, you are two very different people, with different visions. This has come from a few years of working with dozens of different individuals and organizations who want all want the same service design, implementation, optimization and the same high level of service, but all at different prices.
Bottom line: you have to be the same person in your messages that you were in your video. Upbeat, engaged, causal. Since there are so many people applying for many of these jobs, it is a good sign just to be contacted by a prospective client. All in all,. I kept meticulous track of how the proposals were working, so that I could track and tweak.
After a certain point, I had to stop taking clients because the workload was too high. So what did I learn from all this? First, I learned the value of testing, testing, testing. You have to dig deep and probe the inner workings so that you can validate your assumptions. Finally, I was reminded how powerful human interaction can be.
Usually the only way to do this is to spark an interaction that leads to a relationship. Video is a simple way to leverage that. I hope this guide serves you well. Click that link to sign up. I thought all your tips and advice were awesome with the exception of the fake job posting.
Elance frown on it but so do hard working Elancers like myself who put time and effort into a proposal…not knowing its fake. Looking at the buyer history could avoid that but we have to sometimes have to pitch to newcomer businesses on Elance. I hope not too many freelancers try this tactic as it will drown the site with fake postings…. Awesome stuff.
Thanks for sharing your experience experiments! Wow, Wow and Wow! Oh and btw, I found this too late to attend your class!.. Wish it was recorded! Good luck Daddio, keep Rockin, just no Panty Droppin! Damn this is brilliant. Anyone else run into this?
This is a very useful and detailed guide. Its really answered my question on navigating the Elance process. I putting the steps into action now. I be back with the results..
ВАКАНСИИ УДАЛЕННОЙ РАБОТЫ НА ДОМУ В ИНТЕРНЕТ
Спасибо информацию, фрилансер русская версия скачать именно: есть
Make it 0. Use a text editor to edit the "perfoptions. Backup file before changing Open PerfOptions. For slightly easier battles when attacking, select a hostile ship as your target then ignore that ship. Focus instead on the other hostiles but do not select them as a target. Even though they are not selected you will still be given the blindfire marker the crosshair you aim with , although it will be smaller.
Sometimes an untargeted hostile will just sit there, waiting to be shot. Other times, it will remain on a straight course and will not maneuver too much. The AI will eventually catch on to you and will alter its techniques or will send in more ships. Also, you will not be able to use missiles like this. Private messages My forums Cheat book Go to control panel. Username: Password: Register. Activate account! My forums Cheat book Go to control panel. Add tags separate with commas.
Create new custom folder. Move to existing folder. Table of contents. Earn Millions and Levels in Minutes!!! God mode. Zone 21 jumpgate. King of Hill. Modify Difficulty Level. Make Game Super Easy. Submit a cheat! Help out other Freelancer players on the PC by adding a cheat or secret that you know! Top guides View all. Can anybody please give me a detailed walkthrough to add Can you,and if you can then how,mount guns and turrets from battleships and cruisers on fighters??? Freelancer Cheats :.
This page contains Freelancer cheats list for PC version. Now we have 3 cheats in our list, which includes 1 cheats code, 2 secrets. Code: Effect: power shots increase damage done by weapons. Tag it! Others are usually clueless, especially new users of a site. On the other hand, when the customer relationship is strong, small things like minor upgrades to previous results can without any legal cover.
The scope of legal coverage should correlate with the size of the business transaction, of course. Freelancing is much about what you can do proactively to make your clients succeed. One of them is definitely educating your clients about the legalities in a way that builds, not reduces, trust. Learn how time zones work. It is a simple thing to do, but it can make a good impression in the era of the global gig economy.
Always think ahead of what times might suit your client. Office hours work well in case of small businesses whereas individuals doing their side projects might be more available in their evening times only. Some might even give up on you if a suitable time is not found after a couple of messages.
Knowing how to read job descriptions is an essential skill for any freelancer doing business in the global gig economy. One might think that all clients post everything they need in the job description, but that is not the case very often. To get your online profile noticed and your proposal actually read by the client, you have to get your first two sentences right. All these factors are somewhat easy to guess and apply to make the value of your proposal understandable to the client which gets a good dialog started.
When I started freelancing in my mid-thirties, it was not difficult to advertise the skill sets I had acquired by then, even without any actual advertising or marketing skills. If my client is hoping to own patents, it is my history of intellectual property generation that I have to mention. In some cases, even scientific expertise is seen as an asset and sometimes it is the last part to mention.
Highlight your background in the context of your client and your rate of landing good gigs is sure to shoot up. Before you sign up on any of the freelance sites as a freelancer, you can improve your chances of getting your profile noticed and proposals look right by signing up as a client first. It is important to know how your profile appears as a part of the search results, and what words and images are shown in which type of view that the client sees.
Sign up as a client and run a test project or two. It can be something as simple as a virtual assistant service to help you with some small things for 50 bucks, for instance. If you can invest more, you can of course go and hire your potential competitor for a small-scale assignment. It is not enough to simply dump the end result for your potential clients to see. This simple presentation trick is easy to learn and apply.
Just keep it in mind every time you present your freelance work online or offline. Home page True life freelancing stories Start freelancing. Many freelancers sign up to sites and hope that clients find them. You have to make yourself clearly visible.
Many sites continuously improve their search functions. Now that I think about it … I do it with old clients sometimes. A good match is a good match! The match is all that your future client will see. Sometimes your freelance site shows the name of the client or the name of the company. You can always ask for advance payment or some other type of guarantee. When the project is concluded, results handed over and accepted by the client, the amount in the escrow is released to the freelancer.
Have a contract with new clients every time. No hassle with scheduling, no missed calls, no missed opportunities. You can look for clues that help you craft your approach to an interesting proposal: Is the client likely to have the same skill set as you?